Abdominoplasty and Pregnancy
Depending on their age and stage of life, many women considering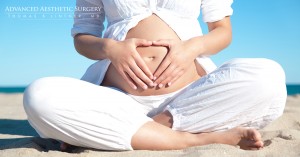 abdominoplasty (tummy tuck surgery) have a number of questions that pertain to pregnancy and the timing of their procedure. A pair of common inquiries I generally receive from prospective patients at my practice include: "Is it alright to undergo abdominoplasty prior to having children?" and "Are there any serious risks should I get pregnant after tummy tuck surgery?"
Although the answer to the first question will be contingent on the specific individual and her unique situation, I typically advise patients to wait until after they are finished having (or planning to have) kids before receiving abdominoplasty. The reasoning behind this recommendation is that becoming pregnant and having children after tummy tuck surgery will almost certainly re-stretch your abdominal skin and muscles, often compromising the outcome of your procedure. Consequently, you may need revisional surgery or even another full tummy tuck if you wish to restore the results of your initial operation.
Aesthetics aside, there are generally no safety issues associated with pregnancy post-abdominoplasty. Other than the cosmetic concerns I mentioned above, becoming pregnant after tummy tuck surgery should pose no health-related complications for you or your baby. Should you become pregnant after a tummy tuck, however, it is important to emphasize that you may need another abdominoplasty to restore the aesthetic outcome of your original procedure.
– Dr. Thomas Lintner, Board Certified Plastic Surgeon
Contact Our Office
If you have any further questions, or if you wish to schedule a consultation with Dr. Lintner, please feel free to contact us today.