How Can I Restore a Flat Stomach After Having Children?
Are you having trouble regaining the slender, more toned midsection you boasted before having kids? Though it may be no consolation, your concern is shared by many mothers all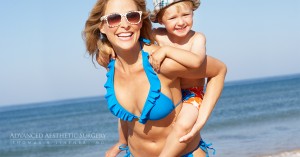 over the country – and world. Numerous women discover that even the most nutritious diets and strenuous exercise regimens are not able to completely rid the abdomen of excess pockets of fat and loose, sagging skin that typically accompanies pregnancy. Luckily, a variety of aesthetic surgical options are available to help significantly reduce or even eliminate these particular concerns, the most successful of which is often abdominoplasty.
More commonly called tummy tuck surgery, abdominoplasty is a common body sculpting procedure intended to eradicate abdominal skin and fat that proves resistant to both diet and exercise. During tummy tuck surgery, lax, excess skin of the lower and/or upper abdomen can be removed, and abdominal wall muscles that were stretched throughout one's pregnancy can be gently tightened. The residual skin is then pulled taut, resulting in a flat tummy that you may not be able to find in the gym. If other areas are of concern, liposuction can be used to address localized fat deposits like the "muffin top".
If you are interested in taking things even further, tummy tuck surgery can many times be performed in conjunction with a breast augmentation, breast lift, breast reduction, and/or fat removal elsewhere in the body to create what's known as a Mommy Makeover. This comprehensive surgical procedure can be custom-tailored to inclusively address cosmetic concerns that may relate to pregnancy and breastfeeding, such as breast drooping and/or volume loss, stretch marks, excess accumulations of fat, and more.
Ultimately, the physical changes experienced during and after pregnancy vary by individual, and the most effective aesthetic options for rejuvenating your appearance will be dependent on your personal needs and goals. For this reason, my recommendation is to consult with a board certified plastic surgeon who has vast experience and proven results in a broad range of cosmetic options to help make certain you receive the best care for your unique desires.
Contact Our Practice
If you would like more information, or if you are interested in scheduling a consultation with Dr. Lintner, please contact us today.