Atlanta Plastic Surgeon Gives Advice for Mommy Makeover Patients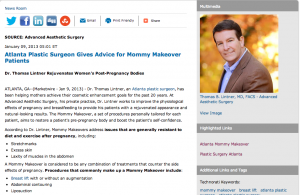 Dr. Thomas Lintner rejuvenates womens' post-pregnancy bodies

Atlanta, GA – Dr. Thomas Lintner, an Atlanta plastic surgeon, has been helping mothers achieve their cosmetic enhancement goals for the past 20 years. At Advanced Aesthetic Surgery, his private practice, Dr. Lintner works to improve the physiological effects of pregnancy and breastfeeding to provide his patients with a rejuvenated appearance and natural-looking results. The Mommy Makeover, a set of procedures personally tailored for each patient, aims to restore a patient's pre-pregnancy body and boost the patient's self-confidence.
According to Dr. Lintner, Mommy Makeovers address issues that are generally resistant to diet and exercise after pregnancy, including :
Stretchmarks
Excess skin
Laxity of muscles in the abdomen
A Mommy Makeover is considered to be any combination of treatments that counter the side effects of pregnancy. Procedures that commonly make up a Mommy Makeover include:
Breast lift with or without an augmentation
Abdominal contouring
Liposuction
Cosmetic injectables
Skin rejuvenation treatments
Dr. Lintner says that while many of his patients expect the Mommy Makeover procedure will be comparable to a C-section, he cautions that the procedure and the recovery are more involved. He tells prospective patients: "Patients should expect to need some help for a few weeks. This is a great time to call family such as the patient's mom and mother-in-law, and let them come for a visit."
The majority of the recoveries take about 10 days to two weeks to heal, depending on the number and type of procedures performed. Dr. Lintner limits patient activity for 4-6 weeks for strenuous activity, such as vigorous exercise.
For patients planning on having additional children, Dr. Lintner recommends that those patients wait before planning a Mommy Makeover. While a patient who has had a Mommy Makeover is still physically able to have more children, the patient may need to repeat the Mommy Makeover process afterward. Dr. Lintner recommends that his Atlanta plastic surgery patients save their money and their recovery time until each mother has finished having children – then she can spend some time on herself.
About Thomas Lintner, MD
Dr. Thomas Lintner is board-certified in plastic and reconstructive surgery. He is a graduate of Georgetown University in Washington, DC and earned his medical degree from the Emory University School of Medicine. Dr. Lintner has published numerous articles and delivered presentations on plastic and general surgery across the country. In addition, he is a Diplomate of the American Board of Plastic Surgery and a Fellow of the American College of Surgeons. Dr. Lintner is available for interview upon request.