Tummy Tucks Most Popular Among Women of Childbearing Age; Atlanta Plastic Surgeon on Why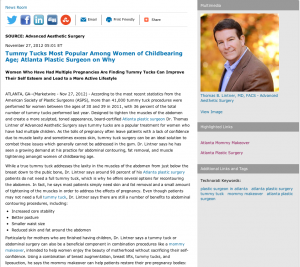 Women who have had multiple pregnancies are finding tummy tucks can improve their self esteem and lead to a more active lifestyle.
Atlanta, GA — According to the most recent statistics from the American Society of Plastic Surgeons (ASPS), more than 41,000 tummy tuck procedures were performed for women between the ages of 30 and 39 in 2011, with 36 percent of the total number of tummy tucks performed last year. Designed to tighten the muscles of the abdomen and create a more sculpted, toned appearance, board-certified Atlanta plastic surgeon Dr. Thomas Lintner of Advanced Aesthetic Surgery says tummy tucks are a popular treatment for women who have had multiple children. As the tolls of pregnancy often leave patients with a lack of confidence due to muscle laxity and sometimes excess skin, tummy tuck surgery can be an ideal solution to combat these issues which generally cannot be addressed in the gym. Dr. Lintner says he has seen a growing demand at his practice for abdominal contouring, fat removal, and muscle tightening amongst women of childbearing age.
While a true tummy tuck addresses the laxity in the muscles of the abdomen from just below the breast down to the pubic bone, Dr. Lintner says around 90 percent of his Atlanta plastic surgery patients do not need a full tummy tuck, which is why he offers several options for recontouring the abdomen. In fact, he says most patients simply need skin and fat removal and a small amount of tightening of the muscles in order to address the effects of pregnancy. Even though patients may not need a full tummy tuck, Dr. Lintner says there are still a number of benefits to abdominal contouring procedures, including:
Increased core stability
Better posture
Smaller waist size
Reduced skin and fat around the abdomen
Particularly for mothers who are finished having children, Dr. Lintner says a tummy tuck or abdominal surgery can also be a beneficial component in combination procedures like a mommy makeover, intended to help women enjoy the beauty of motherhood without sacrificing their self-confidence. Using a combination of breast augmentation, breast lifts, tummy tucks, and liposuction, he says the mommy makeover can help patients restore their pre-pregnancy bodies: "Everyone wants to feel and look good about themselves. Having loose, sagging skin or not being able to hold in their abdominals makes them feel less so. Abdominal contouring is also a springboard to being more active and having a little more self esteem."
About Thomas B. Lintner, MD, FACS
Dr. Thomas Lintner is a graduate of Georgetown University and the Emory University School of Medicine. He is board-certified by the American Board of Plastic Surgery, a Fellow of the American College of Surgeons, and a member of the American Society of Plastic Surgeons and the American Society for Aesthetic Plastic Surgery. Dr. Lintner has also published numerous scholarly articles in medical journals on his advanced plastic surgery techniques. He is available for interview upon request.