Back to School is Mommy Makeover Season Says Atlanta Plastic Surgeon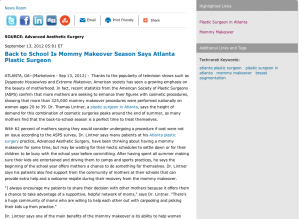 Atlanta, GA — Thanks to the popularity of television shows such as Desperate Housewives and Extreme Makeover, American society has seen a growing emphasis on the beauty of motherhood. In fact, recent statistics from the American Society of Plastic Surgeons (ASPS) confirm that more mothers are seeking to enhance their figures with cosmetic procedures, showing that more than 325,000 mommy makeover procedures were performed nationally on women ages 20 to 39. Dr. Thomas Lintner, a plastic surgeon in Atlanta, says the height of demand for this combination of cosmetic surgeries peaks around the end of summer, as many mothers find that the back-to-school season is a perfect time to treat themselves.
With 62 percent of mothers saying they would consider undergoing a procedure if cost were not an issue according to the ASPS survey, Dr. Lintner says many patients at his Atlanta plastic surgery practice, Advanced Aesthetic Surgery, have been thinking about having a mommy makeover for some time, but may be waiting for their hectic schedules to settle down or for their children to be busy with the school year before committing. After having spent all summer making sure their kids are entertained and driving them them to camps and sports practices, he says the beginning of the school year offers mothers a chance to do something for themselves. Dr. Lintner says his patients also find support from the community of mothers at their schools that can provide extra help and a welcome respite during their recovery from the mommy makeover.
"I always encourage my patients to share their decision with other mothers because it offers them a chance to take advantage of a supportive, helpful network of moms," says Dr. Lintner. "There's a huge community of moms who are willing to help each other out with carpooling and picking their kids up from practice."
Dr. Lintner says one of the main benefits of the mommy makeover is its ability to help women restore confidence in their bodies. Typically combining a breast augmentation, breast lift, tummy tuck, or liposuction, he says the mommy makeover helps patients address areas of the body that have been affected by the tolls of childbirth, such as troublesome fat around the waist, loose or sagging skin, and drooping breasts. He says being able to enjoy the wonders of motherhood while still feeling beautiful in their own skin is a powerful feeling for his patients, and one that he is grateful for the opportunity to help them achieve.
For patients considering a mommy makeover, or a single cosmetic surgical procedure, Dr. Lintner says selecting an experienced, board-certified plastic surgeon is essential for attaining the safest results and the most effective outcome. He encourages all patients to consult with a dedicated and qualified practice before undergoing any treatment, so as to ensure they receive the highest quality care. Through partnership with the right surgeon, Dr. Lintner says patients can take advantage of the back-to-school season with a chance to reward themselves for all the hard work and joys of being a mother.
About Thomas B. Lintner, MD, FACS
An honors graduate of Georgetown University, Dr. Thomas Lintner earned his medical degree from Emory University School of Medicine, where he completed both his general and plastic surgery residencies. He is board-certified by the American Board of Plastic Surgery and a Fellow of the American College of Surgeons, as well as a member of the American Society of Plastic Surgeons, the American Society for Aesthetic Plastic Surgery, and several other professional organizations. Dr. Lintner has been published in numerous medical journals and has delivered presentations on plastic surgery at many of the top annual meetings. He serves on the Executive Board of the Cobb County Medical Society and is the past Chief of Plastic Surgery at Wellstar Kennestone Hospital.
Advanced Aesthetic Surgery has two locations at 711 Canton Road Suite 400 in Marietta, GA and 120 N. Medical Parkway Suite 200 in Woodstock, GA, both reachable at (770) 771-5151. Dr. Lintner and his team can also be contacted online via the websites atlantamommymakeover.com, tomlintnermd.com, or facebook.com/tomlintnermd.