New Mobile Website Enhances Patient Care at Atlanta Plastic Surgery Practice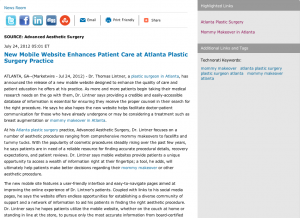 Atlanta, GA — Dr. Thomas Lintner, a plastic surgeon in Atlanta, has announced the release of a new mobile website designed to enhance the quality of care and patient education he offers at his practice. As more and more patients begin taking their medical research needs on the go with them, Dr. Lintner says providing a credible and easily-accessible database of information is essential for ensuring they receive the proper counsel in their search for the right procedure. He says he also hopes the new website helps facilitate doctor-patient communication for those who have already undergone or may be considering a treatment such as breast augmentation or mommy makeover in Atlanta.
At his Atlanta plastic surgery practice, Advanced Aesthetic Surgery, Dr. Lintner focuses on a number of aesthetic procedures ranging from comprehensive mommy makeovers to facelifts and tummy tucks. With the popularity of cosmetic procedures steadily rising over the past few years, he says patients are in need of a reliable resource for finding accurate procedural details, recovery expectations, and patient reviews. Dr. Lintner says mobile websites provide patients a unique opportunity to access a wealth of information right at their fingertips, a tool he adds will ultimately help patients make better decisions regarding their mommy makeover or other aesthetic procedure.
The new mobile site features a user-friendly interface and easy-to-navigate pages aimed at improving the online experience of Dr. Lintner's patients. Coupled with links to his social media pages, he says the website offers endless opportunities for establishing a diverse community of support and a network of information to aid his patients in finding the right aesthetic procedure. Dr. Lintner says he hopes patients utilize the mobile website, whether on the couch at home or standing in line at the store, to pursue only the most accurate information from board-certified plastic surgeons.
Dr. Lintner says he is excited for the launch of the mobile site and looks forward to helping further assist his patients by expanding the level of communication and interaction he provides at his practice. However, regardless of which procedure they are looking for, Dr. Lintner urges all patients to consult only with board-certified plastic surgeons and experienced practices so as to ensure they are receiving the highest quality care from the most skillful professionals.
To access Dr. Lintner's mobile website, patients can visit www.atlantamommymakeover.com on any mobile phone or tablet with internet capabilities.
About Thomas B. Lintner, MD, FACS
A graduate of Georgetown University, Dr. Thomas Lintner earned his medical degree from Emory University School of Medicine, where he also completed his general surgery and plastic surgery residencies. He is board-certified by the American Board of Plastic Surgery, a Fellow of the American College of Surgeons, and a member of the American Society of Plastic Surgeons, the American Society for Aesthetic Plastic Surgery, the Georgia Society of Plastic Surgeons, and several other professional organizations. Dr. Lintner is regularly published in scholarly journals and articles about plastic surgery and has delivered many presentations to his peers on aesthetic enhancements.
Advanced Aesthetic Surgery has two locations in the Atlanta area at 711 Canton Road Suite 400 in Marietta, GA, and 120 N. Medical Parkway Suite 200 in Woodstock, GA, and can be reached at (770) 771-5151. It can also be contacted online via the website atlantamommymakeover.com, tomlintnermd.com, or his Atlanta plastic surgery Facebook page.